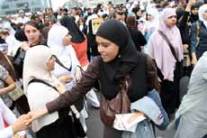 BRUSSELS — The decision of a Brussels school to deny Muslim girls the right to wear hijab has motivated them to champion a protest campaign, the latest episode of the hijab debate in the European country.
"The hijab ban has no ground and the administration offered no explanation and did not consult with teachers or parents," reads a petition circulated by Muslim students in the Institut des Ursulines in the Brussels borough of Molenbeek.
The Catholic school, where Muslims comprise some 85 percent of the students, has decided to ban hijab starting the next academic year. The controversial decision promoted Muslim students to launch a protest campaign, including a rally outside the school, which is located in an area with a large Muslim population.
"The decision, a violation of women rights, is unacceptable," says the petition. "It has caused us much distraction during our exam period and will threaten the educational future of tens of students next year. It was never reported before that the hijab has caused any disruption of the educational process."
Many students have already announced they will leave the school if forced to take off their hijab.