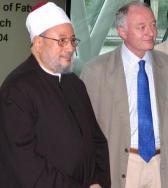 France has come under fierce criticism from an international body of Muslim scholars over denying prominent scholar Sheikh Yusuf Al-Qaradawi entry into the southern European country to attend a major Islamic conference.
"We are surprised, and we admonish France for refusing to grant Sheikh Yusuf Qaradawi a visa," Sheikh Ali al-Qaradaghi, the secretary general of the International Union for Muslim Scholars (IUMS), told Agence France Presse (AFP) on Tuesday, March 27. "He is a moderate scholar who contributed to combating extremism in Islamic thoughts."
Qaradawi, the IUMS president, has received an invitation from the Union for French Islamic Organizations (UOIF) to visit France to attend the Bourget conference next month. But French President Nicolas Sarkozy said that Qaradawi, who is based in Qatar, will not be allowed into the country.
The move comes days after the French leader, who is seeking re-election in the April-May vote, announced a crackdown on preachers he says promote "radical views" in the wake of a spate of killings by an Al-Qaeda-inspired gunman in Toulouse.
Qaradawi, one of the most influential scholars in the world, is known for his moderate views and is widely respected around the world.
He has vehemently condemned all terrorist attacks in the West, including the 9/11, Madrid and London, as well as the Bali bombing that targeted foreign tourists in Indonesia.
Moreover, he backed Arab Spring uprisings in Tunisia, Egypt and Libya, and has launched a fund-raising effort for the Syrian opposition.
Former London Mayor Ken Livingstone has described Qaradawi as a "leading progressive Muslim" and likened him to reformist Pope John XXIII. He praised Qaradawi's staunch support to democracy and efforts to bridge the gap between Islam and the West.