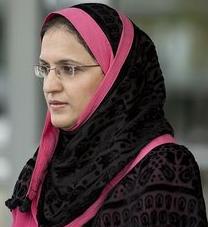 A San Diego Muslim woman wearing a headscarf who was removed from a Southwest Airlines plane at Lindbergh Field on Sunday has received several apologies from the airline and a voucher good for a free flight "as a gesture of goodwill".
But the woman, Irum Abbasi, and the Council on American-Islamic Relations, an advocacy and civil rights group which has taken up her cause, said at a Wednesday morning news conference at Lindbergh Field that this event is a sign of a anti-Muslim sentiment spreading through the country.
A Pakistan native and U.S. citizen, Abbasi was removed from a flight to San Jose on Sunday after an attendant thought she heard her say "It's a go" on her cell phone. Abbasi said she actually said "I've got to go" because the flight was ready to depart.
"I was in tears," said Abbasi. "I have lived in the United States 10 years. I am a U.S. citizen." While she was quickly cleared, Abbasi said she was told she could not re-board the flight because the crew was uncomfortable with her presence.
Abbasi and CAIR both link her ejection to last week's controversial congressional hearing on "The Extent of Radicalization in the American Muslim Community" by Rep. Peter King, R-New York.
"Apart from the negative image it portrayed of the Muslim community in front of all the people at the airport, I strongly believe that this was a direct result of the hearings held by Peter King," said Abbasi, a graduate student in experimental psychology at San Jose State who was returning there for a research project.