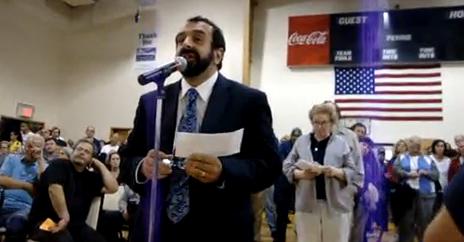 STATEN ISLAND, N.Y. — A meeting about a controversial plan for the Muslim American Society to build a mosque in Midland Beach ended the same way it began: with tension, anger and even hostility.
The two-hour affair, organized by the Midland Beach Civic Association, was intended for members of the community to ask questions about MAS and determine whether the mosque would be a welcome addition to the neighborhood. It was held last night at the Olympia Activity Center, which was filled to its 384-person capacity five minutes before the meeting was to start, and no one else was allowed in.
The controversy began when residents learned of a plan by St. Margaret Mary R.C. Church to sell its empty former convent to MAS, which planned to convert it to a mosque and community center with after-school programs for children.
During the meeting, people grilled three members of the board of the MAS Brooklyn and Staten Island chapter about their views on terrorism and religion, the first question coming from Robert Spencer of jihadwatch.org. "Do you denounce Hamas and Hizballah?," he asked repeatedly.
At one point, a veteran from Afghanistan challenged both sides. "Will you work to the benefit of the community?" Bill Finnegan asked MAS. "Yes, absolutely," came the response.
"And, to the community, will you work cohesively with the new members for the betterment of the community?" At that point, the crowd screamed "no!" while hissing and booing.
Toward the end of the meeting, representatives from the civic association called upon community leaders from Brooklyn to talk about their experiences with a mosque there that has been operated by MAS for several years. The crowd became unruly, refusing to let them speak and the civic association abruptly ended the meeting.
See also Jihad Watch, 9 June 2010