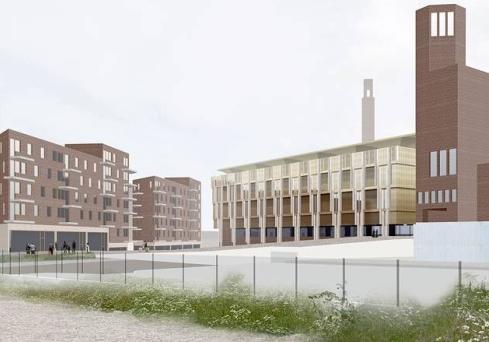 Fresh proposals for a ­permanent mosque risk turning part of West Ham into an "Islamic ghetto", ­say opponents.
A public exhibition was held by Tablighi Jamaat in Stratford in a bid to gather support for the Riverine Centre in Canning Road – dubbed a "mega-mosque". The plan includes a 9,500 capacity mosque with 40m high minarets, library, visitors centre, and a 300-space car park for worshippers.
A temporary facility, ­consisting of demountable buildings, is currently on site. It survived an attempt last year by Newham Council to remove it on the basis of increased traffic and land contamination.
A spokesman for Tablighi Jamaat said the reaction was largely positive. The trustees hope to submit an application before the Olympic Games. He said:
"It seems appropriate for Newham to be setting an agenda for London of cohesion and acceptance by promoting public spaces that facilitate both secular and religious activity in a benign manner. The most significant strategic decision has been to place the mosque at the heart of the site, as a powerful unifying element, a symbol of London's diverse heritage and a celebration of our cultural diversity."
It will feature five public spaces, described as "character zones". One will house the visitor centre and others a nature trail. The mosque will be equivalent to an eight-storey building, while apartments will range from four to seven storeys high.
Former Christian People's Alliance Cllr Alan Craig, now campaign director at Newham Concern, said: "If they wanted to put a modest mosque in Newham I wouldn't have a problem. But they want to put their Western world headquarters there. It's going to be isolationist and will simply create a large custom built Islamic ghetto. It will be Newham's first Sharia-controlled zone."
A spokesman for the trustees shot back: "Alan is yesterday's man and that's the truth of the matter. The facts are there. It going to be a mixed use facility with public access."