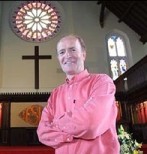 "A website has been launched by those campaigning against proposals for an enormous mosque close to the 2012 Olympic site. Newham councillor Alan Craig, of the Christian Peoples Alliance, says the site will counter 'misinformation and spin' put out by Tablighi Jamaat, the conservative Islamic organisation behind the plans."
Waltham Forest Guardian, 30 November 2007
The home page of MegaMosqueNoThanks.com piously declares: "This website will be both respectful and reasoned, reflecting our commitment to diversity and to the democratic society we live in. We deplore both the grandstanding politics of mega-mosque supporter Mayor Ken Livingstone at one extreme, and the hate-mongering of the political far-right at the other."
Leaving aside the idiocy of comparing the Mayor of London to the BNP, if Alan Craig wishes to conduct the debate in a "respectful and reasoned" manner he might start by repudiating his earlier irresponsible scaremongering statements – like this, for example – which have given credibility to the vicious "all Muslims are terrorists" propaganda promoted by the far-right racists he claims to oppose.
See also Christian Today, 30 November 2007
It would be interesting know the details of Newham Concern, the self-styled "group of concerned citizens" who have set up the website. A "who are we" page lists the group's members as Alan, Andrea, Peter and Ade – who are "a lawyer, a local councillor, a minister, and a trainee aviator".
Well, "Alan" is obviously councillor Craig. "Andrea" might well be Andrea Minichiello Williams, public policy director of the Lawyers Christian Fellowship, who was centrally involved in organising opposition to the religious hatred bill and the Sexual Orientation Regulations. "Ade" is probably Simeon Ademolake, who's a minister in Newham and a CPA councillor. He's also a member of a group called Coherent and Cohesive Voice which published a full-page newspaper advert opposing SORs. And "Peter"? Possibly Peter Vickers, political assistant to Alan Craig, though we were unaware that he had taken up a career in aviation.
So a more accurate description of Newham Concern would probably be "group of right-wing evangelical Christian bigots" .