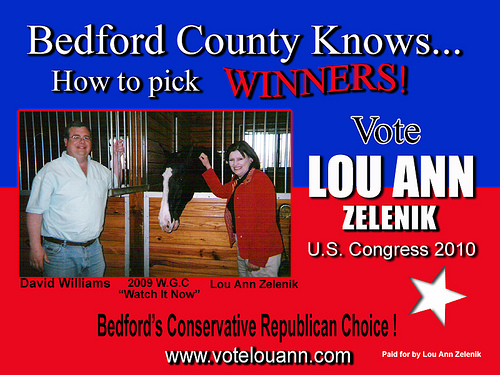 A Tennessee Republican candidate for Congress says plans to build a mosque in a Nashville suburb pose a threat to her state's moral and political foundation.
In a Thursday evening statement, 6th District candidate Lou Ann Zelenik said she stands with those who oppose building what she calls "an Islamic training center." She says the center is not part of a religious movement, but a political one "designed to fracture the moral and political foundation of Middle Tennessee."
"Until the American Muslim community find it in their hearts to separate themselves from their evil, radical counterparts, to condemn those who want to destroy our civilization and will fight against them, we are not obligated to open our society to any of them," Zelenik says in the statement.
Zelenik, who calls herself a leader in the Middle Tennessee tea party movement, hopes to replace U.S. Rep. Bart Gordon, who is retiring after 13 terms.
Associated Press, 24 June 2010
See also Murfreesboro Post, 24 June 2010
Update:  See "Ask GOP to repudiate anti-mosque Tenn. candidate", CAIR action alert, 25 June 2010