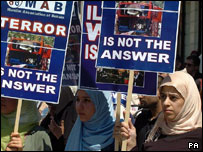 "Elements within the British establishment were notoriously sympathetic to Hitler. Today the Islamists enjoy similar support.
"In the 1930s it was Edward VIII, aristocrats and the Daily Mail; this time it is left-wing activists, The Guardian and sections of the BBC. They may not want a global theocracy, but they are like the West's apologists for the Soviet Union – useful idiots….
"The support of Islamic fascism spans Britain's Left. The wacko Socialist Workers Party joined forces with the Muslim Association of Britain, the democracy-despising, Shariah-law-wanting group, to form the Stop the War Coalition. The former Labour MP George Galloway created the Respect Party with the support of the MAB, and won a seat in Parliament by cultivating Muslim resentment.
"When I revealed on these pages last year both the fascist views of Sheikh Yusuf al-Qaradawi, the spiritual leader of the Muslim Brotherhood, and the fact that he was being welcomed to Britain by Ken Livingstone, the Mayor of London, it caused a storm that has still to abate. Mr Livingstone claims that Sheikh al-Qaradawi is a moderate – which he is, in the same way that Mussolini was."
Anthony Browne in the Times, 1 August 2005