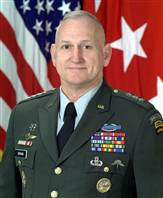 Protesters are pressuring Ocean City Mayor Rick Meehan to shun a prayer breakfast that features a former high-ranking Army officer who has made anti-Muslim remarks.
Leaders of People for the American Way, a left-leaning advocacy group based in Washington, say they have sent hundreds of emails to town officials this week over retired Lt. Gen. William "Jerry" Boykin's scheduled appearance at the breakfast Thursday.
Boykin, a former senior Pentagon official, bills himself as a warrior for Jesus Christ. He made headlines nationally for describing Muslims as idol-worshipers and comparing the war on terrorism to the biblical fight between Christians and the devil.
Michael Keegan, president of People for the American Way, said his group wants the mayor to refuse to attend to the event, or to force the organizer to revoke Boykin's invitation. More than 700 people have emailed Meehan and town officials since Monday through a tool on its website to protest the gathering, according to the group, which says its mission is to advocate for equality, free speech and freedom of religion.
Maryland's ACLU staff attorney David Rocah said in a statement: "The group that invited Boykin has a First Amendment right to chose whomever it wishes as its speaker, and Gen. Boykin has a First Amendment right to make whatever offensive comments he wishes."
But Rocah added: "Anyone who cares about religious freedom and equality has a perfect right to be concerned about Gen. Boykin's islamophobic statements, and a right to protest any group that invites him."
Baltimore Sun, 24 January 2012
See also "CAIR asks Maryland mayor to disinvite anti-Islam speaker", CAIR press release, 20 January 2012