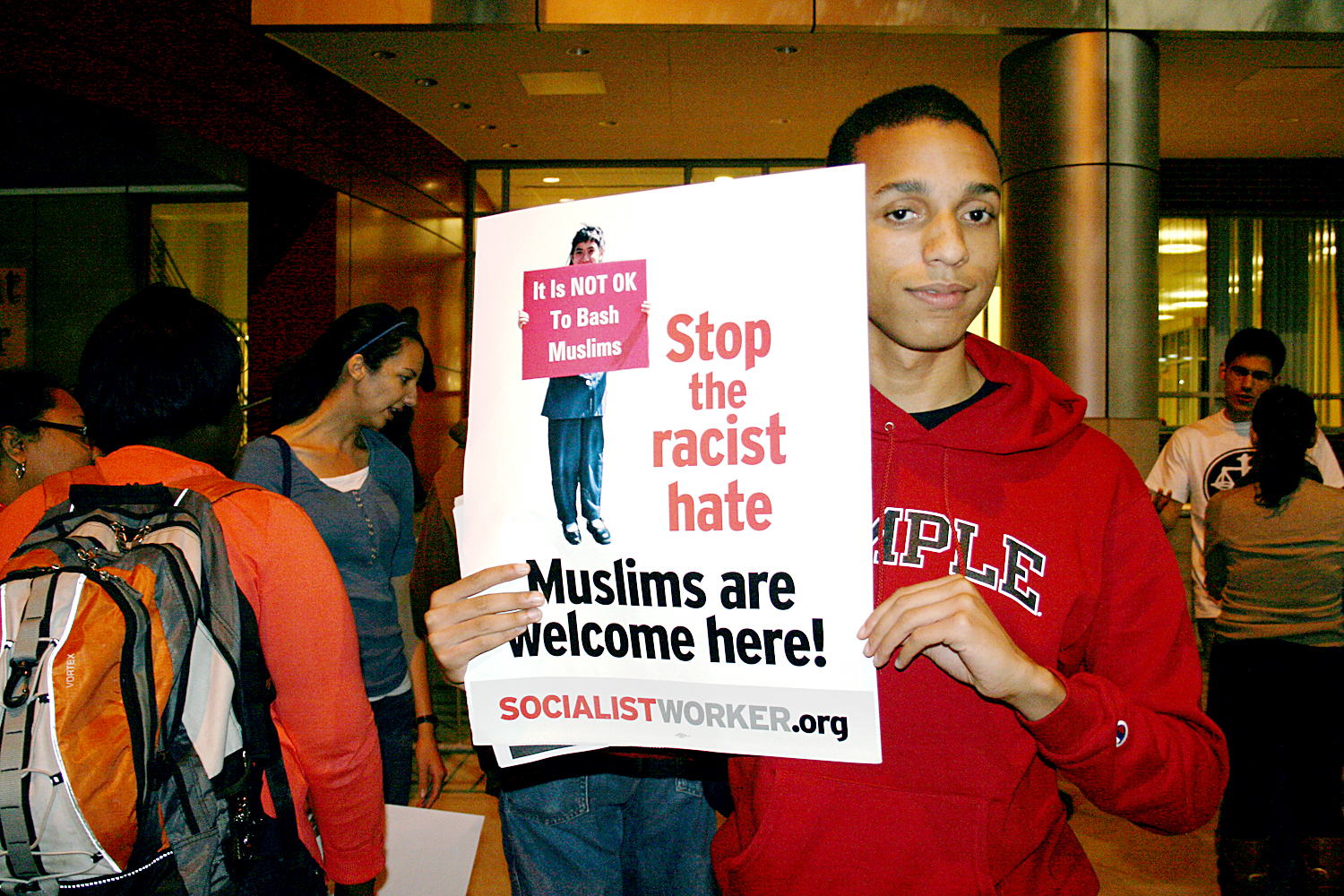 "Off of our campus, out of our state! We say no to racist hate!" was the chant that rang out October 7 from some 50 antiracist protesters. They could be heard inside Howard Gittis Student Center as two professional Islamophobes, Pamela Geller and Robert Spencer, prepared to speak.
North Philadelphia's Temple University prides itself on being diverse. As University President Ann Weaver Hart said in a 2008 Associated Press interview, "You'll see the world walking about on the Temple campus."
With this is mind, why was blogger and "birther" Pamela Geller – who believes that the 9/11 hijackers were practicing "pure Islam, original Islam" – and her equally anti-Muslim confidant, right-wing author Robert Spencer, given an audience at such an institution?
Geller and Spencer's group Stop Islamization of America (SIOA) has been instrumental in drumming up the controversy over the Park51 Islamic community center in Manhattan, which they labeled the "Ground Zero Mosque." The two led a protest near the site of the future community center on September 11. Park51 was to be the topic of the event at Temple.
The group that brought this duo to Temple is a student organization called Temple University (TU) Purpose. This organization requests funding from the university and has close ties with the David Horowitz Freedom Center, whose namesake is a prominent New-Leftist-turned-right-winger.
TU Purpose claims to be on a mission to "create a dialogue where discussion needs to be had" and to "eradicate obstacles – like political correctness … which deprive us of information that is both essential and critical to our analytical and social development."
Despite its humanistic claptrap about promoting "dialogue" and supposedly defending "free speech," TU Purpose has proven to be little more than a right-wing front group – primarily interested in providing a stage for racist hate speech. For instance, last year, TU Purpose hosted an event with Dutch right-winger Geert Wilders, an individual so Islamophobic that he has literally called for the banning of the Koran.
Many were outraged by TU Purpose's plans to bring Islamophobic speakers to campus for the second year in a row. However, Temple's chapter of the Muslim Student Association chose not to encourage a demonstration, fearing that protesting the speakers would give Geller and Spencer too much publicity, thus doing more harm than good. Despite this, many activists chose to turn out in opposition to the racist speakers.
Members of the International Socialist Organization, Delaware Valley Veterans Against the War, Socialist Action and various student activists held a demonstration of about 50 people as Geller and Spencer spoke.
Protester and Muslim student Sahar Abdullah noted that she has been the victim of anti-Muslim ostracism several times since the September 11 terrorist attacks. Speaking "as a person of the Islamic faith," she said in an interview, hate speech is "not what the Koran tells us to stand for."
Noting the contradiction between Temple's celebrated diversity and the views of Geller and Spencer, freshman Julia Murphy remarked, "Temple claims to be one of the most diverse campuses," and "it's wrong to host these speakers."
Since the beginning of this year, we have witnessed the bombing of a Florida mosque, arson at a Tennessee mosque construction site and the stabbing of a Muslim taxi driver in New York. In this climate of anti-Muslim hate crimes and Islamophobia, hate speech is ignored at our peril.
It is imperative that those who stand with our Muslim brothers and sisters against racism turn out in full opposition to hate speech whenever possible, and show that such vitriol is not welcome in our communities.