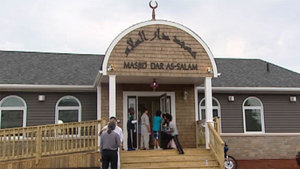 Members of the Masjid Dar As-Salam Mosque in Charlottetown have made a complaint to police following what they believe is the latest in a series of threats.
The mosque, which was just opened in July, is the first purpose-built place of worship for Muslims on P.E.I.
On Thursday, people going to dawn prayer found a bottle that they say contained gasoline and posters saying "Defeat jihad" on the mosque doorstep. "A bottle containing gasoline is left on the doorsteps, you start wondering if the message that's being sent involves arson," said Zain Esseghaier, a spokesperson for the Muslim Society of P.E.I.
This is not the first incident at the mosque. In a news release on the weekend, the Muslim Society of P.E.I. said one year ago a pig's head was nailed to a post on the mosque site, which was under construction at that time. Earlier in the summer, they said a truck belonging to a contractor was set on fire at the site. "We're wondering what's going to be the next gesture, the next thing that's going to happen," said Esseghaier.
Cpl. John Flood of Charlottetown Police confirmed a bottle and a poster were found at the mosque, and they are now part of a police investigation. "I don't know whether it could be categorized as a threat or a statement. It's definitely inappropriate," said Flood. "Until more information is obtained on the matter, like I said, it is still under investigation."
Flood said police have received other complaints from the mosque in the past year and are investigating those too, but he would not say what the exact nature of those complaints were and whether they are related to last week's.
The mosque community is hoping the public will come forward with tips.