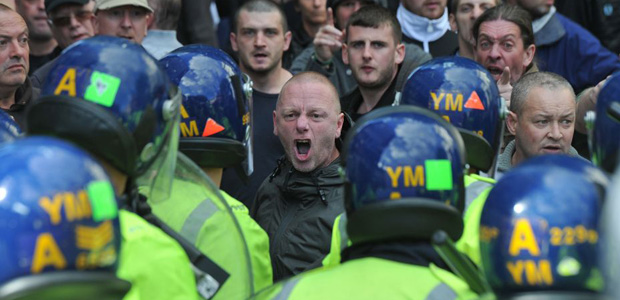 The English Defence League has been branded a "disorganised rabble" after its Walsall protest descended into violence.
Police arrested 28 people as followers of the far-right group charged officers, who used shields and batons to thwart the attackers in Leicester Street.
Organisers of a rival protest set up outside the town's New Art Gallery to highlight the borough's proud multi-cultural heritage have attacked the EDL for failing to control its supporters.
The peaceful We Are Walsall counter-demonstration, thought to have been attended by around 1,000 people, celebrated the town's wide range of faiths and cultures, with live music and dance. MPs David Winnick and Valerie Vaz were among those turning out, along with speakers from Unite Against Fascism.
We Are Walsall spokesman Andy Summers said: "I spent the day as a steward working amongst groups of young men, particularly from the Muslim sector, negotiating with and talking to people, angry that there were racist insults being traded in their town, aimed at their faith. I was so impressed with their self-control.
"The EDL made speeches about non-violence but lost half their crowd because they weren't organised responsibly. The violent moment was the decision by the EDL to bring a disorganised rabble to Leicester Street. That on its own was an assault on Walsall people."
Birmingham Mail, 1 October 2012
See also "More arrests to follow Walsall EDL rally", Express & Star, 1 October 2012