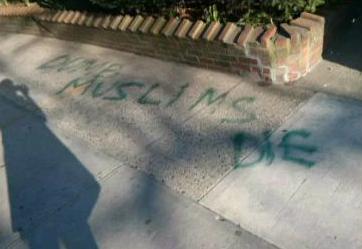 Police are investigating after anti-Muslim graffiti was found spray painted on a sidewalk in Brooklyn. The words were discovered in front of a home on Avenue Z in Sheepshead Bay around 6:30 p.m. Sunday. The graffiti has people in the area concerned.
"I've been here for 12 years, I've never seen something like this. I mean I heard words here and there, you know, I hear the kids you know screaming and yelling and throwing words here and there but this is, this is nervewracking," said one resident. "It's an eye opener. If they have the nerve to do it in the bright daylight i can imagine what they can do in the dark."
Local residents say while a number of Muslim families live on the block, the neighborhood contains a broad mixture of people.
See also Sheepshead Bites, 6 May 2013
Sheepshead Bay was previously the scene of angry Islamophobic protests against plans for a mosque in the area.