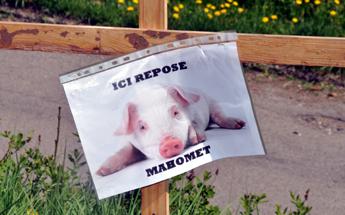 A pig's head buried under a Christian cross along with several offensive inscriptions have been found at the future site of a mosque in southern Belgium.
The inscription "Muhammad lies here" was among the Islamophobia-fueling slogans found at the French-speaking Charleroi city, AFP reported.
According to a statement released by Xavier Godefroid from the mayor's office on Tuesday, the opponents of the construction of the mosque have left many "unacceptable, intolerable and disrespectful" messages at the site. Godefroid added that the city's police have begun an investigation into the case.