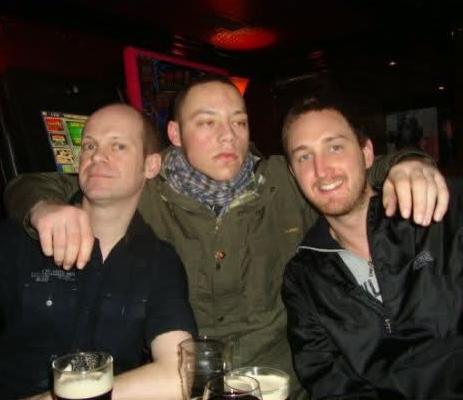 A teenager from north-west London who is a prominent member of the English Defence League (EDL) is facing jail over his role in a pre-arranged fight between football hooligans.
Joel Titus, 18, [in centre of photo] took part in the bloody brawl between Brentford and Leyton Orient supporters outside Liverpool Street station in central London in May last year. The A-level student was captured on CCTV hurling objects at rivals and fighting over a wooden pole with another thug.
Titus had previously been cautioned for battery after punching a journalist at a right-wing demonstration against the "Islamification of Europe" in December 2009, the Old Bailey heard. Earlier this year he was found guilty of threatening behaviour after snarling "f*** off" at a police officer who tried to break up a fight.
He is reported to be a youth organiser for the EDL and has appeared on the BBC Newsnight programme talking about his role in protests.
Titus, of North View, Pinner, appeared in court alongside five other men, all of whom admitted a charge of affray at earlier hearings. All six were remanded in custody to be sentenced on Wednesday.
Press Association, 19 April 2011
Via Lancaster Unity
See also 24dash.com, 19 April 2011
Whether Titus is still involved in the EDL is questionable, but the fact is that he was earlier a key figure in the organisation, not least because his mixed-race origins were useful in deflecting attention from the reality that the EDL is made up overwhelmingly of white racists. The downside, from the standpoint of the rest of the EDL leadership, was that he also reinforced the image of their movement as a mob of drunken violent hooligans.
Update:  See "EDL member jailed for Liverpool Street football brawl", BBC News, 20 April 2011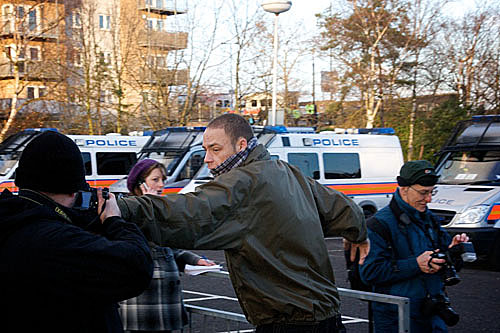 Titus punching photographer Marc Vallée at a Stop Islamisation of Europe protest
outside Harrow Central Mosque in December 2009. (Photo: Jonathan Warren)