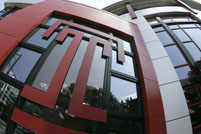 Amid tight security and a large turnout of protesters, Dutch right-wing lawmaker Geert Wilders told an assembly of Temple University students that Europe and America must fight an ongoing "stealth jihad" that threatens democracy and free speech.
"Where Islam sets roots, freedom dies," Geert Wilders told the students during his 30-minute address organized by a new student group called Temple University Purpose and funded by the David Horowitz Freedom Center.
If the spread of Islam continues unabated in the Western world, "you might at the end of the day lose your Constitution," he told the assembly. "Wake up, defend your freedom." He also touched on common themes in his speeches, including calling for an end to Muslim immigration and referring to the Muslim holy book, the Quran, as "an evil book" that promotes violence and intolerance.
A question-and-answer session was cut short after the tone of the event began to turn nasty, when some in the crowd of several hundred students began shouting jeers. Wilders' security detail quickly ushered him from the room.
Before his remarks at Temple, a public university serving about 34,000 students, Wilders showed his 15-minute anti-Islam film, "Fitna," which juxtaposes passages from the suras, or chapters, of the Quran with images of the Sept. 11 terrorist attacks, beheadings, shootings and speeches from clerics advocating violence against non-Muslims.
Temple officials issued a statement saying the university "is a community of scholars in which freedom of inquiry and freedom of expression are valued. We respect the right of our student organizations to invite people who express a wide variety of views and ideas."
---
See also the Philadelphia Daily News which reports:
Before the speech, held in Anderson Hall, more than 50 protesters had denounced the appearance of Wilders at the school. Members of All Sides, an organization that seeks to promote peace between Israel and Palestinians, held pink pom-poms and shouted, "Hey Hey, HO, HO, this racist bull—-'s got to go." Standing next to them with signs decrying Wilders' views were members of the Student Senate, Democratic Socialists and the Feminist Majority Leadership Alliance.

"Wilders speaks out about free speech while at the same time banning the Quran," said Megan Chialastri, vice president of All Sides. "Banned books are not free speech and there is no way around that," Chialastri said. "This is hate speech at its core," said Monira Gamal-Eldin, president of the Muslim Students Association.
And over at Jihad Watch Robert Spencer reports the protest under the headline "Heavily indoctrinated student thugs shout down Wilders at Temple University".