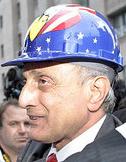 New York Republican gubernatorial candidate Carl Paladino has signed a pledge to support a group of construction workers opposed to a proposed Islamic community center and mosque near ground zero.
Wearing a hard hat, Paladino made the pledge while standing with a few construction workers across the street from the World Trade Center site Wednesday. He said if elected, he would use any legal means available to him to stop the construction of the mosque a couple blocks north of ground zero.
Paladino said there were "many, many alternatives" to stopping the project, including "bleeding" the developers "to death".