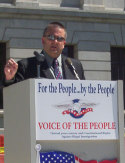 HARRISBURG, Pa. — State lawmakers Wednesday held up voting on a resolution in recognition of a Muslim group's upcoming convention after a legislator protested that "the Muslims do not recognize Jesus Christ as God."
Rep. Daryl Metcalfe, a Republican from Butler County, north of Pittsburgh, said he opposed the House's formal recognition of this weekend's 60th annual convention in Harrisburg of the U.S. chapter of the Ahmadiyya Muslim Community. "The Muslims do not recognize Jesus Christ as God and I will be voting negative," he said on the House floor.
The two-page resolution, sponsored by Speaker Dennis O'Brien, a Republican from Philadelphia, noted that the convention's mission was to "increase faith and harmony and introduce various humanitarian, social and religious services."
The remarks by Metcalfe drew a rebuke from Democratic Rep. Jewell Williams of Philadelphia. "We should be careful in making these remarks and we should support all people in America," Williams said.
A Jewish lawmaker, Democratic Rep. Babette Josephs of Philadelphia, also protested and said she would seek to have Metcalfe's remarks stricken from the official record. She said Metcalfe's position places a religious test on House resolutions, which generally clear the chamber quickly and unanimously.
"I wonder what I would not also qualify for – being on the floor myself?" she said later. "Having the right to vote? Having the right to practice my religion? That's what I was responding to. And we have other people who are not Jewish and not Christian on the floor – some elected, some not."
Associated Press, 19 June 2008
See also "CAIR: Penn. Muslims ask legislature to reject religious 'litmus test'", CAIR press release, 19 June 2008