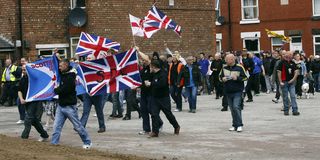 More than 100 members of the English Defence League marched through Shotton on Saturday to protest against attempts to convert a former social club into an Islamic cultural centre. Shotton Lane Social Club, which was destroyed by a suspicious fire in February, had been earmarked as a potential site for a new multi-cultural centre by Flintshire Muslim Cultural Society.
The march was organised by EDL Deeside division member Graeme England to oppose what the group describes as "militant Islam". Protestors met outside The Clwyd pub and marched to the site of the former social club, where speeches were made.
The group, which refers to itself as a "human rights organisation", first marched through Shotton in protest against the planned cultural centre in January – just weeks before the social club site was torched in a suspected arson attack. No one has ever been caught in relation to the incident.
On Saturday an anti-EDL event was also held at Connah's Quay Civic Hall, organised by the Deeside Trades Council.
Flintshire Chronicle, 23 May 2011
---
See also "Hain slates nationalist march against Muslim culture centre bid site as 'poison'", Wales Online, 22 May 2011
Expose draws our attention to a post on the Flintshire Chronicle discussion forum by Graeme England, the organiser of the EDL protest, who insists that "we are not racist, we are not right winged and we are not hooligans".
England then goes on to assert that "Islam hates the western world and our way of life, Sharia law is already starting to infect our society, its happening because nobody will stand up and say NO!!! there are streets in our country where no non muslim would dare to walk…. i have spoken to many muslims in the country and they all say the same 'ITS NOT YOUR COUNTRY ANYMORE… ITS OURS!'." But then, don't you see, "Islam isnt a race its a religion". So how can inciting hatred against Muslims be racist?
As for not being "right winged", the EDL's leaders are former BNP members while their PA backs the British First Party, an openly neo-Nazi organisation. And Graeme England himself was happy to announce that the Shotton demonstration was supported by the North West Infidels, a group who make no attempt to conceal their links with organised fascism.
And to describe the EDL as mere "hooligans" errs on the side of mildness. The EDL Casuals United blog followed up the latest march in Shotton by celebrating the arson attack on the social club that was to serve as the premises of the new mosque.
In short, the EDL is a far-right racist organisation that doesn't just engage in hooliganism but openly promotes violence. This only serves to reinforce the view that there is indeed a two-tier legal system in this country – because, if a Muslim group behaved in the way the EDL does, it would have been banned long ago.