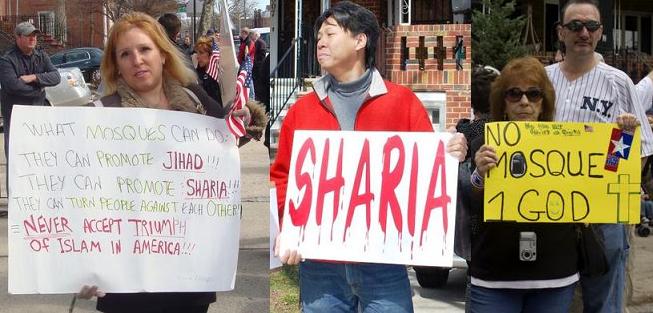 Protestors against Sheepshead Bay mosque – no mention of traffic or parking problems
A group of Sheepshead Bay residents who claim that a planned mosque is using a zoning loophole to skirt parking requirements lost their latest attempt to halt the controversial project, after the Board of Standards and Appeals unanimously rejected their claims today.
Though it hasn't attracted as much attention as Park 51, the Islamic community center in Lower Manhattan, the mosque planned for 2812 Voorhies Avenue, on a residential block between East 28th and East 29th streets, has inspired protests, a lawsuit and challenges before the Department of Buildings.
Bay People, an organization formed to oppose the project, claims the mosque will increase traffic and noise in the neighborhood, decreasing property values. But the group has also come under fire for what is seen as its anti-Muslim bias.
In several DOB complaints lodged earlier this year, Bay People contended that the mosque, which is affiliated with the non-profit Muslim American Society, must provide on-site parking because of the number of worshippers expected at the property.
But DOB, which had already approved the project, shot down the challenges, finding the mosque would comply with zoning rules. The BSA voted 5-0 to affirm DOB today and is expected to issue a written decision shortly.
The Real Deal, 22 November 2011
---
Update:  See here and here for responses to the decision.
Update 2:  Here are some of the proposals posted in the comments section of Geller's Atlas Shrugs article:
"Another solution would be to toss pig parts into the construction area. Spill pig blood and pig fat into the construction area. Spray the equipment with pig fat and pig parts. that should be one of the solutions to the cancer of islam. PIG OUT Sheepshead Bay."
"who are the construction workers – photograph them identify them publish their names and their addresses endlessly harass and insult them and their families"
"Time to start throwing pig's blood, bacon, etc, all over the construction site. Oh, and be sure to walk your dog there as well."
"already read this in several sites and it is going absolutely viral on the internet: swine blood and urine will be covertly embedded in the raw concrete poured for every new mosque, similar splashes for all current mosques"