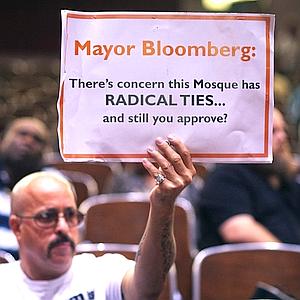 A city hearing yesterday on the historical significance of the downtown Manhattan site of a proposed mosque quickly turned into a raucous – and at times ugly – debate about whether an Islamic center should be located so close to Ground Zero.
About 150 people crowded into the Hunter College Auditorium in Manhattan for the Landmarks Preservation Commission hearing, held to see if the 152-year-old building at 45-47 Park Place in lower Manhattan had the cultural or architectural consequence worthy of being landmarked.
Those who opposed the construction of the 13-story mosque and community center, called the Cordoba House, accused their opponents of being unpatriotic and insensitive to the thousands who died on 9/11. But attendees who want to see the $100 million project completed accused their challengers of being racist and encouraging conflict with Muslims.
One protester, shouting, "Down with this McCarthyistic witch hunt against Muslims," was escorted out after interrupting speakers against the mosque.
Joseph Reichling of Ridgewood, Queens, said, "Our forefathers are turning in their graves. Have we forgotten what happened on 9/11? We must never forget 9/11." Andrea Quinn echoed his sentiments. "The plan to build a 13-story mosque on that site is ludicrous," said Quinn of Queens. "Not to preserve this building is to allow for a citadel of Islamic supremacy to be built in its place."
Zead Ramadan – who said his wife was a first responder on 9/11 – testified for the mosque. "We are picking and choosing which houses of worship can open at which streets and we are opening a can of worms," he said, adding, "It's called Islamophobia."
Rozanne Delgado said, "I'm ashamed of the racism. There's lots of hatred here."