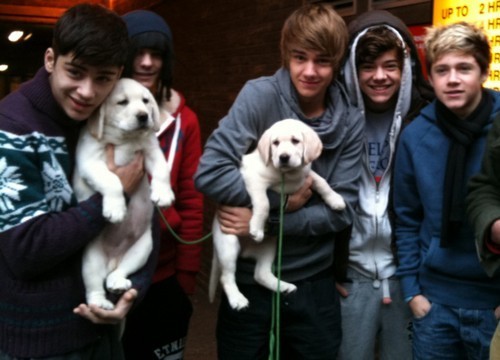 One Direction: don't be fooled by the cute puppies – it's all an Islamist plot
One Direction star Zayn Malik has been accused of "enticing jihad" and "pimping Islam" to young female fans in an outrageous online attack. Right wing blogger Debbie Schlussel warned parents to "keep their daughters away" from the British boyband, currently on a sell-out US tour.
The American claimed Zayn, 19, had posted tweets for fans about Ramadan and Allah. She ranted: "The scary thing is that millions of girls in America and around the world are infatuated with the members of One Direction, including Malik. He knows the power he has over these mindless girls and is using that influence to preach the Islamic faith. It's dangerous."
She even blasted Zayn for wearing a keffiyeh – a cotton scarf – which she called "official garb of Islamic terrorism".
Schlussel ended the blog with: "Keep your daughters away from Zayn Malik's enticing jihad. With the boy band One Direction, it's all about pimping Islam amid the deceptive visage of angelic, effeminate boys in a band. Yup, for them there is definitely One Direction: facing Mecca."
See also Sheila Musaji, "Debbie Schlussel discovers 'boy band jihad'?", The American Muslim, 12 June 2012