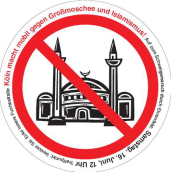 The Organization of the Islamic Conference (OIC) has expressed serious concerns about reports that an far right group is holding an anti-Islam conference in the German city of Cologne in September.
A spokesman for the OIC's Islamophobia Observatory in Jeddah said in a statement issued yesterday that the proposed conference was aimed at arousing anti-Muslim sentiments in Europe and that it would pose a threat to inter-communal peace and harmony in society.
The right-wing extremist group Pro Koln is organizing the event on Sept. 19-20, with the aim of issuing a declaration against the purported "Islami-fication" of Europe. The meeting is expected to be attended by some of the most inflammatory names in European race politics, including Jean-Marie Le Pen of France, Austria's Heinz-Christian Strache, and Belgium's Filip Dewinter.
The organizers of the conference are motivated by racial hatred and xenophobia, said the OIC spokesman. "The OIC hopes that all segments of society in Germany and other parts of Europe will come out strongly against the holding of such a conference, and reject the proponents of hatred and racism," he said in the statement.
Various international groups have condemned Pro Koln for organizing the conference and called for public initiatives to confront efforts to spread the right-wing propaganda against people of other ethnic or religious groups.
Meanwhile, German Jewish writer and Holocaust survivor Ralph Giordano has come out strongly against the planned conference. He said his protests against the "symptoms of a political and militant Islam" have always been based on his desire to "protect the constitutional state based on fundamental rights". "Pro Koln doesn't want any democracy at all," Giordano said, adding that he would "defend any Muslim who is affected by anti-foreigner feeling or xenophobia."
See also Deutsche Welle, 8 August 2008