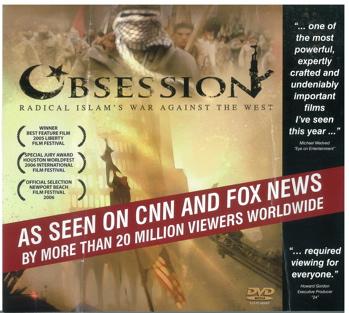 Writing on his Guardian blog Roy Greenslade provides an update on the controversy over Obsession, the anti-Muslim "documentary" distributed by a pro-Israel lobby group, the Clarion Fund, in an evident attempt to boost Johns McCain's bid for the US presidency (see here and here).
Greenslade's piece does provide welcome evidence of hostility to the Clarion Fund's campaign which extends well beyond the US Muslim community.
One reader responded to the Denver Post's decision to distribute 553,000 copies of Obsession by demanding: "If I paid you to distribute an anti-Semitic DVD, would you be so obliging?"
In North Carolina the Greensboro News & Record rejected the ad, calling the DVD "fear-mongering and divisive." The paper's editor wrote on his blog: "Of course it's not free speech… Newspapers decide not to publish information every day. Most of the time we call it news judgment."
In Portland the mayor pleaded with the The Oregonian's publisher not to distribute it. "The tenor of the video contributes towards a climate of distrust towards Muslims that holds the entire Muslim community accountable for the actions of a dangerously misguided few," he wrote.