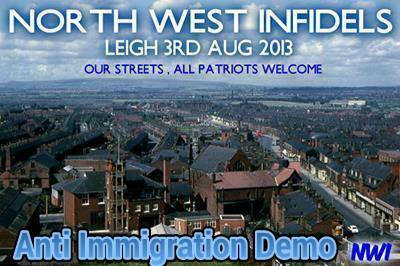 Plans for a far right march through the borough this weekend have caused outrage.
The North West Infidels – a splinter group from the controversial and violent English Defence League – have announced that they are to parade through Leigh town centre on Saturday. Organisers say around 200 members of the shadowy group will march in what they are calling an "anti immigration" rally outside the town hall.
Anti-fascist groups across the borough are now planning a counter-demonstration, leaving traders fearful of disorder and unrest that could well hit takings during difficult times.
On its social media site packed, which is packed with crude anti-Islamic photoshop-created pictures and cartoons, NWI claim that their contingent will also be joined by other extreme right wing groupings such as Casuals United, English Volunteer Force, North West Alliance and Liverpool Scouse Nationalists.
Tellingly, tt confirms its members will meet at a pub in St Helens Road TWO hours before starting their march – raised serious concerns the hate-filled rally could easily descend into drunken violence.
Well-known anti-racist campaigner and former Golborne councillor Peter Franzen, leader of the Wigan-based Community Action Party, will stage his own counter protest in the town hall square and is calling for Wigan's MPs and borough councillors to join him.
He said: "There is no place for Nazis, Islamaphobes and racists on our streets. Our forefathers didn't give their lives and defeat the Nazis in World War Two to allow these drunken football hooligans and low life scum to come into our town and take over our streets."
A spokesman for Greater Manchester Police said it respects "everyone's democratic right" to lawful, peaceful protest and is working to ensure the demonstration passes peacefully and safely.
EDL leaders have been involved in several distasteful rallies throughout the country. They often target towns where they perceive there to be racial tension, making their decision to target Leigh all the more baffling as the town does not have a large ethnic minority population.
On its Facebook page the NWI outlines its position on migrants: "Whether they are legal or illegal they are still bleeding our country dry with zero contribution. DEPORTATION NOT IMMIGRATION!!"