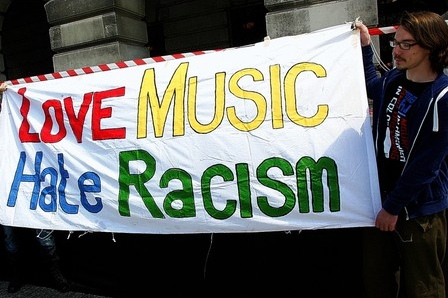 Anti-fascist campaigners in Nottingham have taken a stand against attacks on Muslims in the wake of the murder of a British soldier.
More than 50 people gathered in Old Market Square on Saturday to display an anti-fascism and anti-racism messages outside the Council House. It came amid rumours circulating on the internet that members of the English Defence League (EDL) were planning to stage an unofficial protest in the square.
Although no obvious EDL demonstration took place, people opposed to the group displayed banners with the words "Love Music, Hate Racism" and "EDL = Fascism" during the gathering, which was watched over by a handful of police officers.
Among the crowd was former Notts Unison branch organiser Mike Scott. He said: "Race relations in Nottingham have genuinely been pretty good and I don't want to see anything happening that is going to change that."
Liz Silver, of Notts Disabled People's Movement, also attended. She said: "I am pleased there is such a lot of people here, showing that there is absolutely no support for the EDL. This murder in London was terrible but it was two people acting on their own and not for an organisation."