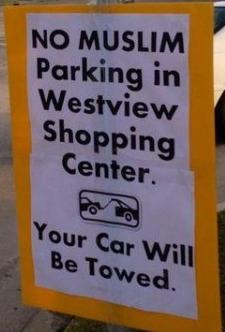 Members of a Houston mosque were outraged last week when a local shopping center posted signs with the slogan "No Muslim parking."
The "No Muslim parking" signs were reportedly posted on Thursday morning throughout the area shared by Houston's El Farouq Mosque and the Westview Shopping Center, a local strip mall, television station KPRC reports.
Each sign was emblazoned with the following message: "No Muslim parking in the Westview Shopping Center. Your car will be towed." The signs were so offensive that they were taken down by Thursday afternoon.
Worshippers at the El Farouq mosque quickly expressed their outrage regarding the "No Muslim parking" signs. "I feel sorry for the person who wrote it," El Farouq attendee Ahmed Hassan told KPRC. "This is what comes to mind because obviously he has a lot of hate."
"I'm very shocked because we do live in a society that's supposed to be very accepting and this is what we all preach," another El Farouq worshipper, Yara Aboshady, told KPRC. "That we all have freedom of religion."
The El Farouq mosque stands across the street from the Westview Shopping Center, KPRC reports. According to the television station, multiple strip mall employees "admitted [that] they get angry" when El Farouq attendees use the shopping center's parking lot, but declined to be interviewed on camera.
The "No Muslim parking" signs are believed to be a reaction to the upcoming end of the Islamic holy month of Ramadan, which will bring a large crowd to El Farouq mosque, KPRC reports. However, no one has taken responsibility for the placement of the signs.
KPRC interviewed Steve Kwon, the owner of the Westview Shopping Center, but he denied that he had placed the signs, and eventually helped to take them down.
Kwon added that the shopping center will contact a towing company to remove any car that shouldn't be parked in the area, KPRC reports. On the other hand, he claims that he will remove any additional "No Muslim parking" signs that might appear in the area.
Still, local residents continue to debate the origin of the signs. "It could be no parking for the sake of the patrons," Aboshady told KPRC. "Or it really could be a prejudice and just a mean thing to say."