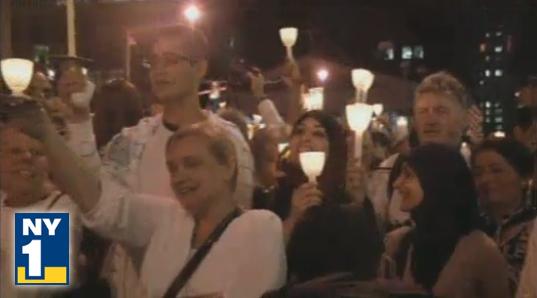 As the anniversary of 9/11 and the Islamophobic rally led by far-right blogger Pamela Geller converge today, over 1,000 New Yorkers gathered Sept. 10 at Park Place in lower Manhattan for a candlelight vigil in support of the proposed Muslim community center two blocks from Ground Zero that has ignited a national firestorm over Islam in America.
Organized by New York Neighbors for American Values, a new coalition of over 100 groups formed in response to the opposition to the Cordoba House project, faith leaders, elected officials, musicians and activists voiced strong support for the proposed Islamic community center, which will also include a September 11 memorial, a restaurant and culinary school and more.
"This is not just an issue I should support silently," said Frank Fredericks, the co-director of Religious Freedom USA. "This is a core, essential issue that Americans should stand up for."
The supporters of the center, holding candles, filled more than two blocks, and some had to stand on a sidewalk across the street from the vigil. The music of Bob Marley, John Lennon and a live rendition of Woody Guthrie's "This Land is Your Land" filled the air.
"There's enough for all of us. Nobody has to be thrown away. We can do this thing if we hang together. There's enough room in this neighborhood for an Islamic center," the keynote speaker of the event, Representative Keith Ellison (D-MN), the first Muslim elected to Congress, said. "We don't have to say they gotta go… They are our fellow Americans."
The action came the night before the 9th anniversary of the September 11 attacks and a planned rally in lower Manhattan organized by the right-wing Stop Islamization of America group.
"No neighborhood should be off-limits for any particular group," said Aliya Latif, the civil rights director for the New York chapter of the Council on American Islamic Relations
"I think we all know that nobody would object to a community center on Park Place unless it was sponsored by Muslims. And no one can say with a straight face that that's not based on religious discrimination," said Richard Gottfried, a New York State Assemblyman. "People who share American values do not do that."
The vigil came in the midst of an increase of anti-Muslim sentiment across the country, stoked by the right-wing press. There has been a spate of anti-Muslim actions over the past couple of weeks as the debate over the Muslim community center in New York has heated up. While two-thirds of New York City residents want the proposed center to be moved farther away from the site of Ground Zero, a majority of Manhattan residents support the project, according to a recent New York Times poll.
"We have every right to worship wherever we want. This country was founded on the basis of religious freedom," said Rabyaah Althaibani, a Muslim Arab-American.
Indypendent, 11 September 2010
See also NY1, 10 September 2010