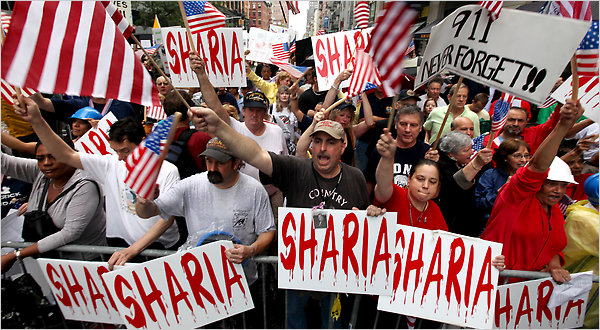 A small number of conservative foundations are propelling a handful of anti-Islamic activists who are fueling rising levels of Islamophobia, according to a report issued Friday (Aug. 26) by the left-leaning Center for American Progress.
The 130-page report identifies seven conservative funders who between 2001 and 2009 gave $42.6 million to eight anti-Islamic causes, most of them headed by individuals who critics say form an organized network.
The report is the latest among recent reports by CNN, The New York Times and The Tennessean that scrutinize these organizations. Authors of the CAP report hope the public pressure will persuade donors to stop funding these groups. "The intention of this report is simple. We want to end Islamophobia," said Faiz Shakir, a report author.
Religion News Service, 26 August 2011
See also Jim Lobe "New report identifies organisational nexus of Islamophobia", Inter Press Service, 26 August 2011
And Wajahat Ali, "Fighting the defamation of Muslim Americans",Comment is Free, 26 August 2011
Also Faiz Shakir, "REPORT: $42 Million from seven foundations helped fuel the rise of Islamophobia in America", Think Progress, 26 August 2011
For an alternative view, see Robert Spencer, "The Islamic supremacist propaganda machine cranks out another 'Islamophobia' report", FrontPage Magazine, 26 August 2011
And Pamela Geller, "Fear Inc. fears truth", Atlas Shrugs, 26 August 2011
Download a copy of Fear, Inc. The Roots of the Islamophobia Network in America here
Update:  See Sheila Musaji, "Islamophobes attack CAP Fear Inc. report – more sound & fury signifying nothing", The American Muslim, 27 August 2011