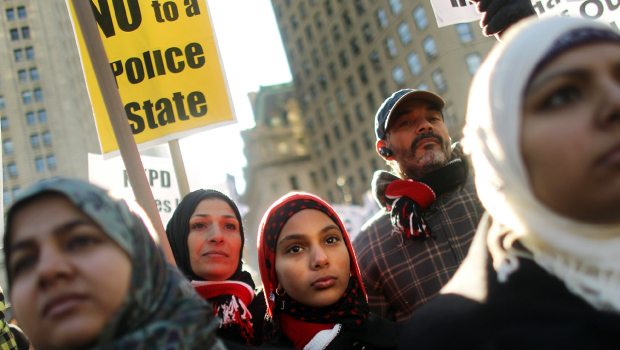 Hundreds of Muslims gathered in lower Manhattan on Friday to pray and march in protest against a decade of New York Police Department spying on Muslim communities.
The traditional Friday call to prayer echoed off the cold stone of government buildings as people, bundled in winter clothes, knelt in prayer on a blue tarp.
"We're peaceful people," said Dalia Nazzal, 18, a freshman at theCity University of New York, where police used undercover officers and informants to infiltrate Muslim student groups. "We don't deserve to be under surveillance."
An Associated Press investigation revealed widespread NYPD spying programs that built databases on every aspect of Muslim life in New York. Police infiltrated mosques. Plainclothes officers catalogued Middle Eastern restaurants. Analysts built databases on Arab cab drivers and monitored Muslims who changed their names.
Many of these programs were built with the help of the CIA as part of an unusually close collaboration that is now the subject of an internal CIA investigation.
"There's a wrong that we have all been made aware of," Talib Abdur-Rashid, an imam from theMosque Of Islamic Brotherhood in Harlem told the group of about 300 protesters.
Rashid said it was no secret that police have been watching mosques. But the news that the NYPD was monitoring everything from Islamic schools to restaurants was unacceptable.
The protest was joined by about 50 members of the Occupy Wall Street movement, who marched to Foley Square just north of City Hall chanting "Surveillance is violence, we won't remain silent!"
Following the prayer, protesters were scheduled to march to police headquarters, calling for an end to the surveillance.
Protesters carried signs that said "NYPD Watches Us. Who Watches NYPD?" and "NYPD/CIA: Hands Off Our People."