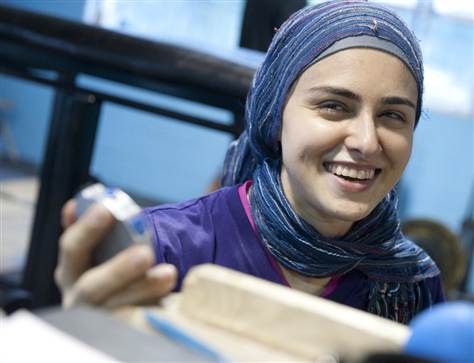 The International Weightlifting Federation has modified its rules and will allow athletes to wear a full-body, tight-fitted unitard during competition, the group said.
Wednesday's rule change was prompted by an Atlanta woman, who wanted to take part in competitions governed by IWF rules but still adhere to the modest dress of her Muslim faith.
"Weightlifting is an Olympic Sport open for all athletes to participate without discrimination on the basis of race, color, religion, sex, age, or national origin in accordance with the principles of the Olympic Charter and values," Tamas Ajan, IWF president, said Wednesday. "This rule modification has been considered in the spirit of fairness, equality and inclusion."
Before the change, the IWF's technical and competition rules said weightlifting outfits – officially called "costumes" – had to be collarless and not cover the elbows or knees.
Kulsoom Abdullah, a 35-year-old with a doctorate in electrical and computer engineering, is not an Olympic athlete, but enjoys lifting weights. She generally wears loose, long pants past the ankles, a long-sleeve, fitted shirt with a loose T-shirt over it, and a hijab, or head scarf, covering her hair. "It's what I believe in. It's what I've chosen to do," Abdullah told CNN this month about her decision to wear modest garb. "I've always dressed this way publicly."
The review was prompted by the Atlanta resident wanting to take part in tournaments in the United States, including one coming up in July. But USA Weightlifting informed her that those events are governed by IWF rules, which at that time precluded her dressing in keeping with her beliefs.
Abdullah says she understands the need to make sure she isn't wearing anything under her clothes to give her a competitive advantage. She says judges could check to make sure she is not wearing something on her elbows, for example, that might help her.
Abdullah told CNN her effort is not just about herself. "I should at least try," she said, "if not for me then maybe for other women who – if they have my faith or another faith – dress a certain way."