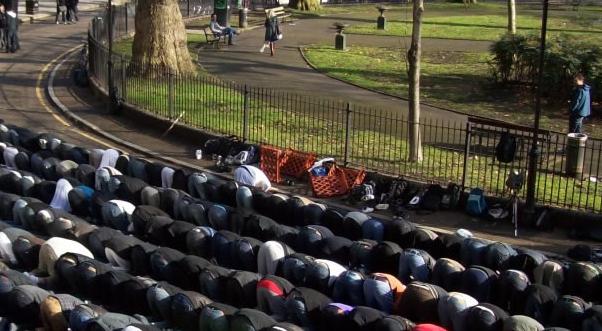 Muslim students are demanding their embassies lobby City University to overturn a ban on them using their prayer room.
The University, which has students from Muslim countries including Bangladesh, Iran and Pakistan, padlocked the prayer room on Whiskin Street because of security concerns after six Muslim students were attacked in November.
Hundreds of male members of the Islamic Society (ISoc) have been gathering twice a day to pray in Northampton Square in protest. Up to 400 students have been attending sermons in the square during Friday prayers.
In a statement on the Muslim students campaign website it said: "We Muslims are still stranded in the middle of nowhere without a dedicated place to pray, and it seems the university don't want to change their stance."
Saleh Patel, president of the City University Islamic Society (ISoc), said: "We have tried dialogue but the University say they are always busy. We are hoping that they will listen to international students. We want them to ask their embassies to contact the University. We also want students' parents to ring the University, showing character and patience. We hope to resolve this with dialogue if they let us speak to them."
Patel said they were not currently seeking to take legal action, but in a statement on the campaign website it says: "It may be the case that we need to take further steps if the university do not feel it is necessary to provide for the needs of the Muslims."