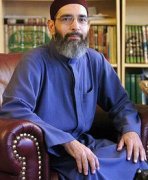 PITTSBURGH — An Islamic nuclear physicist on Thursday accused the U.S. Department of Energy of revoking his security clearance in retaliation for his criticism of the government's treatment of Muslims.
Moniem El-Ganayni had worked at the Bettis Laboratory in the Pittsburgh suburb of West Mifflin for 18 years. He was fired in May after the department revoked his security clearance, according to a federal lawsuit filed on his behalf Thursday by the American Civil Liberties Union.
The Department of Energy denied El-Ganayni the right to appeal the revocation by saying its reasons are classified and could violate national security if made public. El-Ganayni is demanding that he be allowed to contest it before a "nonpolitical, neutral arbiter as mandated by DOE regulations."
"Everything I strived for all my life came to an end without a chance to defend myself," said El-Ganayni, 57, an Egyptian who moved to the United States in 1980.
Bettis Laboratory works on the Naval Nuclear Propulsion Program, a joint Navy-Energy Department program responsible for nearly all aspects of U.S. nuclear-powered warships. El-Ganayni's security clearance granted him access to classified information needed for his job.
El-Ganayni has been active in Pittsburgh's Muslim community, helped establish one of the area's first mosques and is a past president of the Islamic Center of Pittsburgh. He has given speeches critical of U.S. foreign policy, the war in Iraq and attempts by the FBI to recruit Muslim tipsters inside mosques. El-Ganayni has also ministered to Muslim prison inmates.
El-Ganayni has never received a negative report or evaluation from Bettis Laboratory, and even after the revocation process began, his superiors made it clear they would like to have him back, said Vic Walczak, the ACLU's Pennsylvania legal director.
"The Energy Department knows it cannot admit that it revoked Dr. El-Ganayni's clearance because he has been an outspoken critic of the U.S. government's treatment of Muslims, so it is hiding behind 'national security' to avoid having to explain itself," Walczak said.
El-Ganayni said he was questioned twice since October, when the Energy Department said disclosing the reasons for the revocation would hurt national security.
According to the lawsuit, officials with the Energy Department and FBI asked about El-Ganayni's speeches, his views on suicide bombings and the Quran, and a conflict he had with the Pennsylvania prison system over a decision to bar him from raising funds for a Muslim religious feast.
Associated Press, 27 June 2008 
See also ACLU press release, 26 June 2008
Update:  See "Muslim physicist leaves U.S. after losing security clearance", Pittsburgh Post-Gazette, 28 November 2008