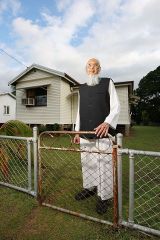 The small but determined Muslim community in Cairns has finally won the right to build the city's first mosque after an eight-year battle against an at-times hostile community and claims the religion was trying to "spread its tentacles" to north Queensland.
Work is expected to begin on the mosque within weeks after the Planning and Environment Court dismissed the final group of objections, noting freedom of religion was part of the fabric of the Australian community. "It is in the public interest that persons who choose that faith, just as those who choose any other faith, have access to a safe and reasonably comfortable place of gathering and worship," judge Keith Dodds said.
Cairns imam Abdul Aziz Mohammed, a former cane farmer and Rotary stalwart whose father moved to the city from India in 1900, yesterday welcomed the decision. He said the ordeal to build the mosque had been the first time he had experienced racism in the 76 years he had lived in the region. "A lot of the objections were just crazy," he said. "I mean, they wouldn't know what goes on in a mosque. I was disappointed, but you've got to remember the objectors didn't really number that many."
Opponents claimed Mr Mohammed was planning to build a "mega-mosque" in the suburban street and that it would become a hotbed of terrorism.
Cairns's Muslim community numbers less than 200. Only a handful have attended prayer at any one time for the past eight years at a termite-infested ramshackle Queenslander that will make way for the new mosque.
The council received 44 objections to the mosque, ranging from concerns over parking to bald objections to Muslims having a place to worship.
Resident Peter Romer claimed he was forced to object on planning grounds because lawyers had advised him against objecting on religious grounds. "We were not allowed to mention Muslims in our objections, our lawyers told us not to, but that's why I didn't want it here," Mr Romer said. "They'll be everywhere. The property prices will plummet."
Asked if Cairns was at risk of terrorist attack, Mr Romer said: "It will be now. Their objective is to spread their tentacles throughout Australia, bit by bit. The judge hasn't thought of that."