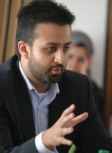 Strathclyde police are facing accusations that it operates a covert intelligence monitoring unit which is infringing the rights of Muslims, after the force launched an investigation into claims that a group of Asians on a clay pigeon shoot had behaved "like terrorists".
Osama Saeed, chief executive of the Scottish Islamic Foundation, has written to Strathclyde's chief constable, Stephen House, expressing concern at the way Special Branch officers are questioning Asians about their lifestyles, religious and political beliefs and internet activities. He added that the continued use of the tactics would lead to "further marginalisation of Muslims", and is already leading some to think twice about practising their beliefs for fear that police will disrupt their lives.
His comments came as one solicitor claimed police have also been secretly "recruiting" Muslims to provide information about their community in return for payments.
The 10-strong shooting party were questioned informally at their homes and businesses by two policemen a year after their November 2006 trip to Kypeside Farm, an activity centre near Lesmahagow in Lanarkshire. The officers, believed to be from Special Branch, were reacting to a tip-off from a member of the public who claimed the group had been overheard discussing "shooting AK-47 rifles in Pakistan".
The 29-year-old trip organiser, who declined to be identified, said: "They wanted the names of my family and friends and my thoughts on Afghanistan, Iraq and what I would do if I encountered an extremist at my mosque. I replied that I didn't think I would go to them because they were so ignorant, but would speak to the imam.
"I had my solicitor present, who told me that it was no coincidence several men were standing trial for involvement in a terror camp in the Lake District. It hadn't even crossed my mind what we did could be seen as terrorist activity and I found it very sinister."