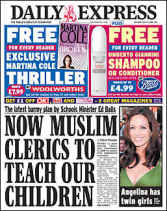 Moves to allow Muslim clerics into classrooms to address pupils were condemned yesterday. The latest scheme put forward by Schools Secretary Ed Balls was greeted with derision. Critics branded the proposals by the under-fire minister unworkable and unnecessary.
The package of measures, to be published next week, will set out a proposal to invite British-born imams into schools to speak about growing violent extremism among young people.
Under the plans, the imams would teach citizenship so that pupils learn about the Koran and Islam in the context of a multicultural society. But last night the scheme was described as yet another worthless Government gimmick. Opponents said the plans would simply provide another opportunity to deliver "faith-based citizenship lessons" on Islam.
The National Union of Teachers caused an outcry in March by suggesting that Muslim clerics and other religious leaders should be sent into every school as an alternative to having specific faith schools. Head teachers and other critics warned that this could allow extremists to target pupils. Now the proposals by Mr Balls appear to take the move a step further.