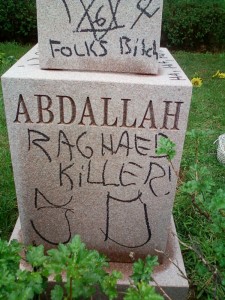 Several headstones at a cemetery in Evergreen Park were found desecrated with anti-Muslim graffiti this week, and Chicago's Muslim community is shocked.
The Council of Islamic Organizations of Greater Chicago reported Friday morning that the graffiti had been scrawled on several graves at the Evergreen Cemetery, at 3401 W. 87th St. in Evergreen Park.
The group says a Palestinian-American man went to pay respects to his deceased father at the cemetery, and was horrified to see several Muslim graves desecrated.
"The Southwest Side has been home to a large Muslim and Arab American population for over 30 years; it is shocking to find such hatred, especially at a cemetery", council associate director Ahlam Jbara said in a news release.
The council posted photos of the graffiti on its Web site. Family markers were desecrated with ethnic slurs directed at Muslims and words that insulted the prophet Muhammad.
Some of the graffiti was also accompanied by gang symbols, including the six-pointed star and pitchforks of the Folk Nation – an alliance of several gangs – and a message reading, "Folks bitch."
Evergreen Park police said they had "no information" on whether there would be extra patrols following the incident.
The council pointed out that this latest incident comes on the heels of two attacks or acts of vandalism directed at Muslim institutions.
This past Sunday night, the College Preparatory School of America, an Islamic school at 331 W. Madison St. in Lombard, was subjected to vandalism. The council says someone hurled a 7-Up bottle filled with acid and other unspecified materials at the school during the nighttime Ramadan prayers.
During the prayer session, worshipers heard a loud bang and went to find an empty bottle thrown on the window of the school. No one was injured. And a week ago, air rifle shots were fired at a mosque in north suburban Morton Grove.
In response to the incidents, the council is planning a flash mob action against hate and Islamophobia at 5 p.m. Friday, at Michigan Avenue and Congress Parkway.
See also "Hate graffiti sprayed on Muslim graves in Illinois", CAIR press release, 17 August 2012