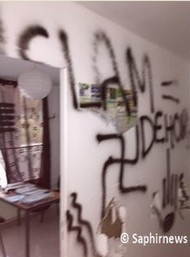 Saphir News reports that last Friday night racist vandals broke into the office of the Muslim Assistance funeral home in Orléans and defaced the walls with Islamophobic graffiti.
The graffiti featured swastikas and Celtic crosses, and a drawing of a pig's head, accompanied by slogans such as "Islam out", "close or die" and "dirty Arabs". Computer equipment was stolen and a photocopier damaged.
The manager of Muslim Assistance, Abdessamad Errich, later received anonymous phone calls boasting of the attack. Last month he had been subjected to telephone threats.
The vandalism may be connected to the fact that Errich publicly opposed the recent closure of a Muslim school at La Chapelle-Saint-Mesmin, which was itself the object of a graffiti attack at the end of September.