Weaponised puppies! Are there are no depths to which these evil Islamists will not sink?
Earlier this week, under the touching headline "Refugee puppies from Egypt looking for homes in U.S.", CBS New York reported that Robyn Urman of Pet ResQ Inc had revealed the shocking news that "members of the Muslim Brotherhood marching toward Tahrir Square to demand that ousted President Mohamed Morsi be reinstated were using puppies as gas bombs – dipping them in gasoline and lighting them on fire".
According to CBS: "Urman received a Facebook message from Mervat Said, an animal rescue volunteer in Egypt, who said two puppies, Cleopatra and Cairo, were saved moments before they were to be used as weapons."
Happily, it turned out that not two but three puppies had been saved. An appeal for homes for the dogs, posted the Pet ResQ Inc website, provides details of their narrow escape: "Ten cruel bearded men gathered more than 20 puppies and start pouring gasoline on them and throw them at the army. These flying fire balls were puppies that used as weapon. We only could save these three poor babies."
Yes, really, that's a story that CBS was prepared to take seriously. Unsurprisingly, they have had second thoughts about the accuracy of their reporting, and the "Refugee puppies from Egypt" article has now been completely rewritten to omit any reference to the animals' deployment as incendiary devices.
But that didn't prevent the story being seized on by Robert Spencer, who posted it at Jihad Watch, prefaced with quotations from several hadiths to show that, for Muslims, cruelty to dogs is religiously mandated.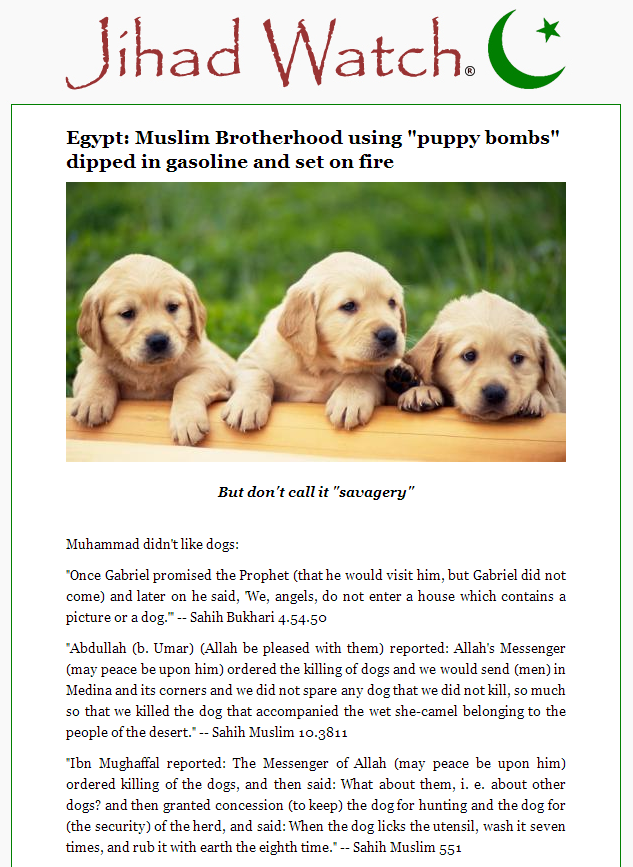 Update:  See "Robert Spencer & Pamela Geller discover 'puppy bomb jihad'", The American Muslim, 3 November 2013