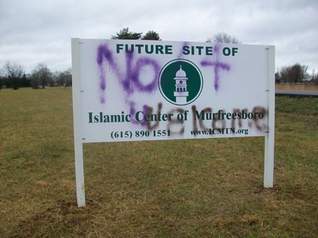 A Muslim civil rights and advocacy organization is calling on local, state and national law enforcement agencies to investigate the latest act of vandalism at the site of the proposed Islamic Center of Murfreesboro.
Local authorities were alerted to the second case of vandalism of a sign at the future mosque site on Veals Road near Bradyville Pike Wednesday, when a passing motorist reported the sign had been beaten with "an unknown object."
The original sign marking the center was vandalized in January by a still-unknown person who wrote "not welcome" in spray-paint.
"A mosque official told CAIR that the latest incident of vandalism has been reported to local police and the FBI," said CAIR spokesman Ibrahim Hooper, via a press release on behalf of Washington based civil rights organization. "That same official said local law enforcement authorities have been very supportive of the Muslim community and have stepped up police patrols in the area of the proposed mosque."
CAIR believes the planned expansion of the Islamic Center of Murfreesboro is being opposed by individuals who "have made Islamophobic statements at recent public hearings concerning the mosque."
A candlelight vigil for peace, tolerance and freedom of religion is scheduled for later this evening in Murfreesboro.