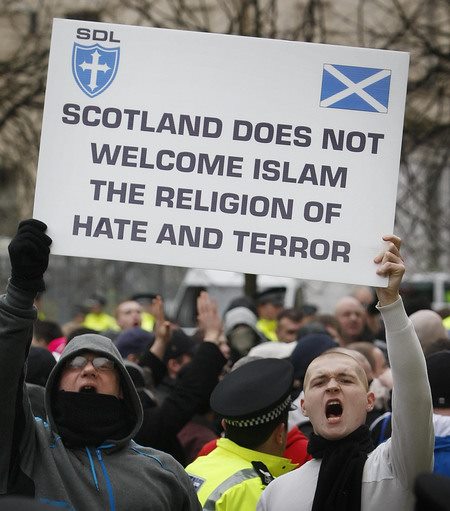 A horrified Dumfries couple yesterday slammed an anti-Islamic group which is using a story about them to promote a protest march.
Raymond and Eleanor Ingram opposed a neighbouring mosque's planning application to transform a store into overnight accommodation. The Annan Road residents launched a petition against the move because they are fed up with people attending the mosque parking in their drive.
But they were "stunned" to find that their objections to the Dumfries Islamic Society plan were being used by the Scottish Defence League to rally support for a march in Dumfries on Saturday, May 18. The SDL copied a Standard story about the couple's protest to its Facebook page.
Mr Ingram, 71, said: "We didn't know who they were and we had no idea we were on this page until our neighbour told us to go online and look at it. We have absolutely nothing to do with this march and we don't want to be associated to it. We want to make that clear to everyone."
He added: "Our argument is not racially motivated – it is based on existing problems with noise and car parking which we feel will only be made worse if permission is granted." Meanwhile, SDL members on Thursday night updated plans for the Dumfries demonstration, detailing two coach pick-up points in Glasgow on May 18.
A Facebook post said: "We are going to Dumfries to support the locals who are opposing the extension and development of a local mosque to create residential accommodation for the Muslim community."
Trade unions and Unite Against Fascism (UAF) have joined forces to organise the "Dumfries Against the Racist SDL" rally. Dumfries TUC secretary John Dennis said: "We want a united response from people to make it clear that racists and fascists are not welcome here."
A council spokesperson confirmed it had received a notice of proposal to hold a public procession from Dumfries TUC but hasn't been contacted by the SDL.