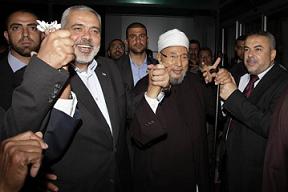 Prominent Muslim scholar Sheikh Yusuf Al-Qaradawi arrived in Gaza late Wednesday, May 8, in a major blow to a crippling Israeli blockade on the strip.
"Our whole ambition is to die on the path to Allah, and for long life to Palestine," Qaradawi said upon arrival in Gaza, Agence France-Presse (AFP) reported.
Leading a delegation of 50 scholars, Qaradawi crossed Egypt's Rafah border terminal into Gaza. He was greeted by Hamas Prime Minister Ismail Haniyeh and senior leaders of the resistance movement.
"Palestine today welcomes the Sheikh of the Arab Spring, the Sheikh of the revolution and the Sheikh of Jihad in Palestine," Haniyeh said in a welcome speech.
The leading Muslim scholar is expected to remain in Gaza for five days, during which he will lead the weekly Friday sermon on May 10.
Qaradawi, the President of the International Union for Muslim Scholars (IUMS), is one of the most influential scholars in the world and is known for his moderate views and is widely respected around the world.