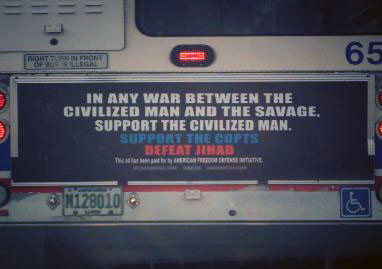 The controversial ads unveiled on the back of 10 CTA buses Wednesday read, "In any war between the civilized man and the savage, support the civilized man." They conclude with the words, "Support Copts. Defeat Jihad," referring to friction between Muslims and Coptic Christians in Egypt.
Within hours of the buses' first runs, messages appeared on Facebook and Twitter denouncing the campaign. Many said degrading a spiritual tenet of Islam – one that refers to a Muslim's personal quest to become a better person – amounts to hate speech.
Chicago Tribune, 14 November 2012
See also "Act now against Islamophobic ads appearing on CTA buses", JCUA Newsblog, 14 November 2012
Geller's notorious "It's Not Islamophobia, It's Islamorealism" ad has also appeared on public transport in Denver.
See "RTD political ads called anti-Islamic", 9 News, 13 November 2012
And "Anti-Islam ads on RTD buses condemned", KDVR, 14 November 2012
Update:  See "Pam Geller compares Jewish group to Nazi sympathizers", Salon, 15 November 2012