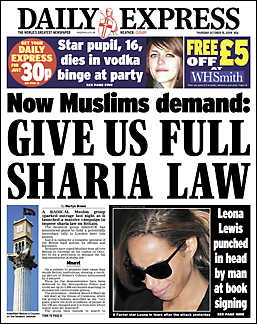 A radical Muslim group sparked outrage last night as it launched a massive campaign to impose sharia law on Britain. The fanatical group Islam4UK has announced plans to hold a potentially ­incendiary rally in London later this month. And it is calling for a complete upheaval of the British legal system, its officials and legislation.
Members have urged Muslims from all over Britain to converge on the capital on October 31 for a procession to demand the full implementation of sharia law. On a website to promote their cause they deride British institutions, showing a mock-up picture of Nelson's Column surmounted by a minaret.
Plans for the demonstration have been delivered to the Metropolitan Police and could see up to 5,000 extremists marching to demand the controversial system.
Daily Express, 15 October 2009
---
In other words, yet another attempt to misrepresent the minuscule al-Muhajiroun sect as having significant support among the Muslim communities. "Up to 5,000 extremists"? Give us a break. Anjem Choudary will have difficulty organising a demonstration that even reaches three figures.
See also ENGAGE, 15 October 2009
Update:  See "MCB deplores Islam4UK proposed march", MCB press release, 15 October 2009