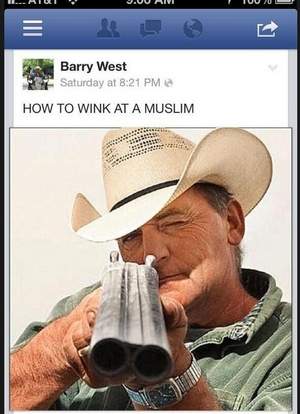 A Coffee County commissioner's Facebook post suggesting Muslims are best greeted from behind a rifle barrel is prompting demands for an apology.
Commissioner Barry West's post follows a string of anti-Muslim acts throughout Middle Tennessee in recent years, including at least four incidents of mosque vandalism. Opposition to a new mosque in Rutherford County was so strong it took federal Justice Department intervention to open it last year.
West played no active role in any of those incidents. He just put an image on his Facebook page, which shows a man aiming a shotgun under the phrase "How to wink at a Muslim." But even that put a chill through Muslims in Middle Tennessee.
Muslim groups tweeted a screen grab of his post and it went viral. West, who lives in Manchester, removed it about an hour later. He did not apologize, instead questioning how his tweet had become the focus of attention. West responded with this email: "No I did not Twitter this … no I did not create this picture … yes I shared it … so why am I being singled out?"
It's particularly troubling when elected officials post such Internet memes because they set the tone for how constituents should behave, said Drost Kokoye, an American Muslim Advisory Council board member. The statewide group was created to promote communication between Muslims and Tennessee law enforcement and government.
"This may just be a picture to him, but for us it is very threatening," said Kokoye, an Antioch resident who has lived in Tennessee for 17 years. "Muslims in Coffee County should not feel safe to walk outside their homes."
She said it was important for her group and others to expose and condemn the post to show it isn't funny and could be dangerous.