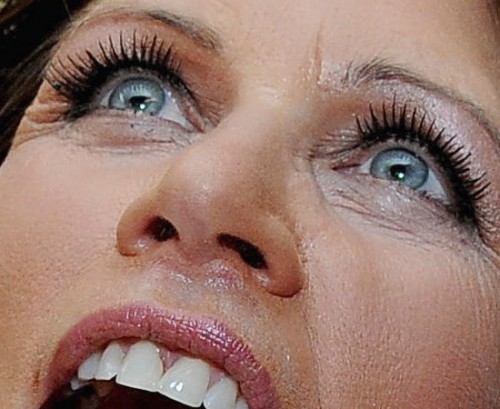 Outgoing Rep. Michele Bachmann (R-Minn.) says President Obama has embraced the "agenda of Islamic jihad" at every turn.
"I have been very surprised, to answer your question, to see the president of the United States, at every turn, cut the legs off of our ally Israel, and in fact embrace and lift up the agenda of Islamic jihad," she said in an interview released Wednesday with "Washington Watch", a radio show produced by the socially conservative Family Research Council.
Bachmann criticized the president for writing to Iran's supreme leader, Ayatollah Ali Khamenei, to encourage a deal on Tehran's nuclear program. "This really is a spiritual battle that we're dealing with," she added. "And while the president continues to say that this is not about the religion of Islam, I beg to differ."
Her comments were first reported by BuzzFeed News.
Bachmann said she spoke to Obama at this year's White House Christmas party and encouraged him to take action against Iran. But she said the president mocked her concerns. "And he laughed at me condescendingly, and he said, 'Well, Michele, it isn't that easy. But that's OK.' Like patting me on the head, like I didn't know what I was talking about," she said.
It's not the first time Bachmann has made controversial comments about Islam. In 2012, she said that Hillary Clinton aide Huma Abedin had ties to the extremist Muslim Brotherhood.
Her decision to retire leaves House Republicans without one of their more outspoken conservative voices. She regularly pushed the conference to take a harder line against President Obama, including working with Rep. Steve King (R-Iowa) to seek a vote on legislation to challenge executive action deferring deportations for millions of illegal immigrants.