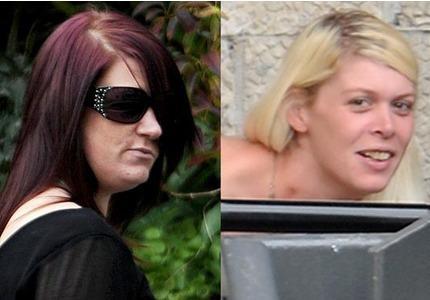 Two women joined a racist mob which attacked and abused a terrified Kurdish family in a city centre takeaway, a court heard.
Hayley Wells, aged 28, and 30-year-old Kelly Watterson were part of a group which spilled out of a pub and hurled vile abuse on a Sunday afternoon. Someone threw a glass which smashed next to a baby in a car seat inside the Istanbul kebab shop in Exeter Street, Plymouth Crown Court heard.
Wells scratched the boy's mother on the arm and Watterson admitted she was drunk and aggressive as part of the mob, which had been attending a meeting of the English Defence League. The mother and her partner were so shaken that they have since sold the takeaway.
Recorder Paul Derbyshire said: "This was a shocking and violent incident which left these victims in a distressed state. This has led to the closure of the business and they have moved away." He handed Wells a suspended prison sentence and Watterson a community order. Both must do hefty periods of unpaid work.
Watterson, of St Peter's Road, Manadon, admitted one count of affray and Wells, of Shell Close, Leigham, admitted one count of religiously aggravated common assault on August 31, 2011.
Kelly Scrivener, for the Crown Prosecution Service, said the male victim arrived at the shop at about 2pm to see a large group of men and women gathered outside the nearby Wild Coyote pub. He added they racially abused him and told him to "go back to his own country".
Miss Scrivener said someone in the group threw a glass object, which smashed on his car. She added the two defendants kicked the door of the shop and Wells scratched the woman's arm. The court heard the mob continued to shout "EDL" and further racist abuse. Miss Scrivener said an unknown member of the group threw a glass which smashed close to her infant son in a car seat. She added Wells and Watterson were pulled away by men in the group.
Wells told police in interview that she believed all Muslims were extremists and if she saw a woman in a burka it would make her angry. She admitted to officers that she organised EDL meetings and had been drinking and taking amphetamine. Miss Scrivener said Watterson, the best friend of Wells, admitted being drunk and aggressive and said she was swept along with the group.
The court heard a statement from the victim which said she still feels "very frightened" walking around the city centre. She said her partner sold the takeaway, because he was too afraid to work so close to the pub.
The judge handed Wells a three-month prison sentence suspended for two years under probation supervision. She must do 200 hours unpaid work and pay the victim £100 in compensation. Watterson was given a 12-month community order under probation supervision with 150 hours unpaid work. She must also pay £100 in compensation to the victim.
Plymouth Herald, 23 February 2013
The Herald also provides an account of the events by the mother who was attacked (referred to as "HK"):
The mob were shouting "Allah is a paedo". The husband said to them he was just trying to do his job, but he couldn't reason with them. I could see they were working themselves up, chanting "EDL". I told him to get into his car as they threw glasses and as I raced back to the shop, telling everyone to get inside, they were all behind me. There was me between the family and the mob. The daughter was shouting "leave my dad alone" and they told her to "**** off you Muslim s**g".

I'd called the police, saying "we're being attacked by a racist mob" – they could hear everything. The men were throwing glasses into the shop. I was screaming at the family to get out the back – I didn't know how long I could hold the door. The family were at the back, crying. They said they didn't want to leave me behind. I phoned the police again and told them to record what they heard, record what happened to us when the mob got in.
HK said when the police arrived Wells and Watterson went in a different direction to the mob. She kept the door shut until police wielding tasers had deployed dogs and moved the mob back to the Wild Coyote pub. As she opened the door, she spotted the pair walking past so she raced to an officer and pointed them out. She said:
"They were swearing and shouting, even when they were taken to the floor. When we went to the police station we all had glass in our clothes. Glass was all over the baby boy. It was terrifying. I've done Human Rights work in conflict zones but this mob were out of control."
EDL News points out that Wells is now involved with the English Volunteer Force, another rabidly Islamophobic far-right group led by former BNP and EDL activist Chris Renton (aka John Sheridan).