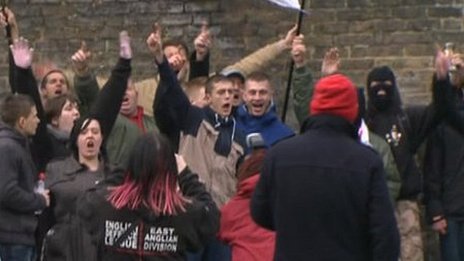 Hundreds of protesters marched through Cambridge to oppose a rally by the far-right English Defence League (EDL) which saw a major police operation launched in the city.
The EDL rally on Christ's Pieces ended early after only about 40 activists turned up, and they were heavily outnumbered by the Unite Against Fascism (UAF) counter-demonstration, which was attended by at least 500 people.
More than 400 police officers from six forces, supported by dog units and a helicopter, were on the streets to ensure the demonstrations passed off without serious disorder.
There were four arrests, with three being made in the aftermath of the EDL rally – which was held to oppose construction of a new mosque in Mill Road – and the fourth being made following a clash between rival protesters in East Road, at the end of the UAF march.
Two EDL members confronted the anti-fascists and unfurled a flag, which caused the crowd to charge. A man who had been on the UAF march was arrested on suspicion of a public order offence, while the two EDL members were escorted away.
Police said both of Saturday's demonstrations had been "lawful, reasonable and peaceful" overall.
Dr Sejad Mekic, chairman of Cambridge Muslim Council, said the counter-demonstration had been a celebration of the city's diversity and tolerance.
He said: "The clear message for the EDL is that there is no place for them in Cambridge or anywhere in today's society, we have long surpassed this issue of racism. Groups like this need to be condemned because, if we don't, they think we approve them with our silence. We need to oppose them – peacefully."
The UAF rally began with speeches and music at Petersfield before passing up Burleigh Street and Fitzroy Street and confronting the EDL demonstration on Christ's Pieces.
Chanting "EDL, go to hell, take your Nazi mates as well", and "Whose streets, our streets", the anti-fascists snaked through the city before crossing Christ's Pieces again and passing through the Mill Road area, where residents and businesses came out to show their support.
Following the demonstrations, three men – a 24-year-old from Thetford, a 25-year-old from Norwich, and a 23-year-old from Cambridge – were being held on suspicion of public order offences. A 56-year-old man from Cambridge was arrested on suspicion of being drunk and disorderly, a public order offence, and assaulting a police officer.
A spokesman for the EDL's East Anglia Division denied the turnout was disappointing. He said: "I am pleased with the turnout. It is low but even if there was just one of us here I would be pleased."
Cambridge News, 23 February 2013
See also BBC News, 23 February 2013
Update:  See "Pair charged after EDL rally and counter-protest",Cambridge News, 24 February 2013