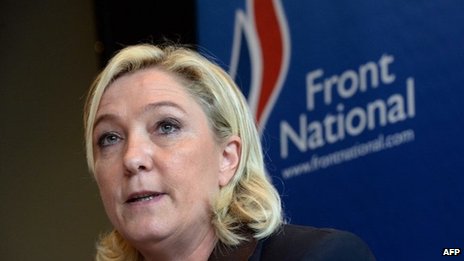 Marine Le Pen's public relations efforts to soften the image of the far-right Front National were dented this week after she caused outrage by questioning the beards and scarves worn by returning French hostages .
Le Pen, whose party's trademark is speaking out against immigration and public displays of Islam, said the appearance of the four men who had been held captive by for three years by Islamist militants in the Sahel desert was "troubling".
She told Europe 1 radio: "Two of them had beards cut in a rather strange way. Their clothing was strange. One hostage had a scarf on his face. That all calls for some explanation on their part."
Asked whether she was implying the French workers kidnapped in 2010 from a uranium mine site in Niger might have converted to Islam, she said: "I'm not making allusions. I'm telling you how I felt. I wouldn't go so far as to offer a theory."
The mother of one of the former captives, Pierre Legrand, said her son and the three other men had agreed to keep their beards and scarves in a gesture of solidarity with other French hostages still held in the region. The four, flown back to Paris within 48 hours of their release from harsh conditions in northern Mali, had appeared tired and relatives said they needed time to recover from their ordeal.
Faced with a barrage of criticism from politicians and on social networks who warned Le Pen had been watching too much of the US drama series Homeland, the Front National leader issued a rare apology saying she had expressed herself in a "clumsy" way. But she repeated her comments about feeling uneasy at the sight of the hostages in clothing that was "a symbol of their detention".
"Ms Le Pen is so blinded by her hatred of Muslims that she can't even join the rest of the nation in rejoicing at the release of our hostages," the ruling Socialist party spokesman, Eduardo Rihan Cypel, told iTele.
Bruno Le Roux, head of the Socialist party in parliament, said: "If proof were needed that the 'de-demonisation' of the Front National that Marine Le Pen seeks to promote is nothing but a sham, here it is."
Roger Karoutchi, senator from the right-wing UMP party, tweeted: "Thirty-seven months held in the desert and Marine Le Pen says the hostages should have come back clean-shaven and in three-piece suits. What to say?"
But Joel Gombin, an academic specialised in the far-right, told Liberation that Le Pen's comments on the hostages seemed well-pitched to appeal to her supporters, particularly those who subscribe to general conspiracy theories.
Front National has been rising in the opinion polls. An Ifop survey in September showed one in four French voters would back the party in next spring's European elections. It was the first time in FN has topped a poll for a national vote.
Le Pen has been trying to boost her own credibility, warning in September that she no longer wants the party to be described as "extreme right" and threatening to sue anyone who used the term – a threat roundly dismissed by the French media, politicians and the president, Francois Hollande.
See also Daily Telegraph, 31 October 2013