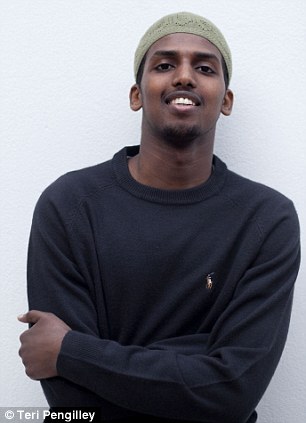 Mahdi Hashi, the British-Somali man who disappeared from east Africa shortly after being stripped of his British citizenship, appeared yesterday in a New York federal court alongside two Swedish men. All three appear to have been rendered by the United States from Djibouti, and have now been charged with terrorism offences.
Hashi, 23, is accused of "providing material support" to Somali militant group al Shabaab. A statement released by the FBI revealed that Hashi has been in the US penal system since November 12. Neither his family nor his UK legal team were informed.
The US claims that between 2008 and 2012 Hashi carried out weapons and explosive training with al Shabaab and was "deployed in combat operations to support al Shabaab's military action in Somalia". It adds that he allegedly participated in "an elite al Shabaab suicide bomber program".
In June, Hashi's family was notified that he had been stripped of his British citizenship; the Home Secretary claimed he was "involved in Islamist extremism". Hashi and a group of Somali Muslim friends in Camden, London, previously claimed MI5 had subjected them to a campaign of harassment and had threatened to label them as terrorists unless they agreed to work as informants.
Mohamed Hashi told the Bureau his son disappeared from his home on the outskirts of Mogadishu weeks after losing his citizenship and that the family was later contacted by a man who said he had been held alongside Hashi in a jail in neighbouring Djibouti.
The fellow inmate also mentioned that two Somali-Swedes were in the facility. Hashi is charged alongside Ali Yasin Ahmed, 27, and Mohamed Yusuf, 29. The New York Times reports the men 'appeared in court with the aid of a Swedish interpreter', and Yusuf's lawyer told Bloomberg his client held Swedish citizenship.
Hashi was taken from the jail by Americans, his family was told by the former prisoner. Yet until the case was unsealed yesterday, they had no further clue as to his whereabouts. The Bureau contacted the State Department on Thursday to ask if Hashi was in US custody and was told: "We do not have anything on this to share publicly at this time."
Saghir Hussain, Hashi's solicitor, told the Bureau: "It seems the US disappeared Mahdi Hashi for the past several months and rendered him to New York. The British government also needs to explain its involvement in this case."
Asim Qureshi, research director of campaign group CagePrisoners said: "If Mahdi Hashi had still been a British citizen he would have had some protection. But he has had his citizenship taken away and that has left him open to being a victim of rendition to the US with no state to defend his rights."
Bureau of Investigative Journalism, 22 December 2012
See also Mail on Sunday, 23 December 2012
And "British involvement results in rendition of Mahdi Hashi to the US", CagePrisoners press release, 22 December 2012